Armory Advises Equilibrium Capital in AppHarvest Bankruptcy.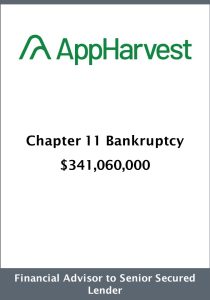 AppHarvest is a sustainable food company that developed and operated one of the world's largest networks of high-tech indoor farms comprising 165 acres of glass greenhouse facilities on four farms in Kentucky producing tomatoes, salad greens, strawberries and cucumbers.  The company had $341M in debt when it filed for bankruptcy in July 2023.
Equilibrium Capital is a sustainability-driven asset management firm that deploys capital supporting active ESG strategies in sustainable food and agriculture infrastructure. Through its Controlled Environment Foods Fund II, Equilibrium provided convertible construction financing to AppHarvest and was the largest pre-petition secured creditor to AppHarvest.
Armory's Restructuring Advisory and Food and Agribusiness Industry Teams served as financial advisor to Equilibrium and its legal counsel through the restructuring including Equilibrium's (i) $30MM DIP Financing and monitoring of Debtor's DIP Budget; (ii) Successful purchase and consolidation of AppHarvest secured bank debt; (iii) Successful stalking horse credit bid for two of the four AppHarvest farms and (iv) Lease of the acquired facilities to Mastronardi Produce as part of a broader restructuring plan.
AppHarvest received confirmation of its Chapter 11 plan in the Bankruptcy Court for the Southern District of Texas on September 14, 2023.
For information on this transaction or about Armory Securities, please contact one of the following deal team members:
Doug McDonald
Managing Director
dmcdonald@armorysecurities.com
310.721.2671
Dave Clark
Managing Director
dclark@armorysecurities.com
617.990.4682
Melissa Chu
Vice President
mchu@armorysecurities.com
978.942.7428
Armory Securities, a division of Armory Group, LLC, is a leading investment bank dedicated to helping middle market companies and their constituents. Armory Group, through its subsidiaries, provides investment banking services, asset management services and advisory services, including enterprise transformation and interim management, to middle market companies and their stakeholders. Learn more about Armory Group, and its subsidiaries, at www.armorygroupllc.com.
Armory Securities, LLC, member FINRA, Member SIPC