Armory Advises Kent's Bromeliad Nursery on Sale to Elevate Living Design Inc.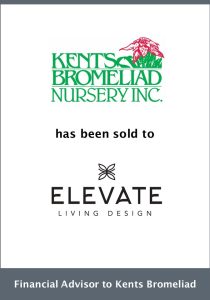 Kent's Bromeliad Nursery ("KBN") is one of the world's leading suppliers of premium Bromeliad plants. Its expert team of horticulturists have extensive knowledge of bromeliad cultivation that has resulted in creation of over 47 unique bromeliad plant varieties and more than 19 patents for additional hybrids.
KBN grows bromeliad plants commercially for sale to retailers, wholesalers and professional landscapers on the U.S. West Coast and licenses its patented hybrids to other growers in the rest of the world. KBN operates 750,000 square feet of specialized greenhouse facilities on 33 acres of prime real estate in San Diego County of California.
Elevate Living Design Inc. ("ELD") is a private California Corporation formed as a joint venture of United Plant Growers Inc. and Grand Investments LLC to acquire and operate KBN and its related assets with a goal to expand operational scale and marketing capability.
ELD acquired 100% of the stock of KBN, purchased its affiliated real estate and other assets, and offered employment to KBN employees who will continue to operate from Vista, California. The acquisition was financed with secured term debt provided by American AgCredit.
Armory Securities Food and Agribusiness Industry team served as the exclusive financial advisor to Kents Bromeliad Nursery for the sale transaction. The transaction closed on October 19, 2023.
For information on this transaction or about Armory Securities, please contact one of the following deal team members:
Doug McDonald
Managing Director
dmcdonald@armorysecurities.com
310.721.2671
Ron Papile
Vice President
rpapile@armorysecurities.com
818.967.6480
Armory Securities, a division of Armory Group, LLC, is a leading investment bank dedicated to helping middle market companies and their constituents. Armory Group, through its subsidiaries, provides investment banking services, asset management services and advisory services, including enterprise transformation and interim management, to middle market companies and their stakeholders. Learn more about Armory Group, and its subsidiaries, at www.armorygroupllc.com.
Armory Securities, LLC, member FINRA, Member SIPC