Armory Securities, LLC is pleased to announce that Yucatan Foods, LLC has been sold to Flagship Food Group and CREO Capital Partners. The transaction closed on February 7, 2023. Armory served as exclusive M&A advisor for the transaction.
Yucatan Foods, LLC (a subsidiary of Curation Food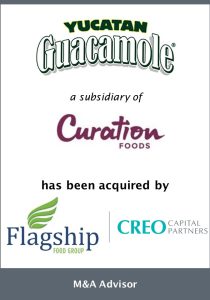 s and Lifecore Biomedical) markets pre-made fresh guacamole products under the Yucatan® and Cabo Fresh® brands which are among the largest retail brands in the category.
The Company produces both branded and private label avocado products for customers in a variety of channels, including grocery, mass, specialty, club, and food service throughout the United States and Canada. The transaction was effectuated through the sale of all of the outstanding equity of Yucatan Foods, LLC and its affiliated manufacturing facilities and operations in Guanajuato, Mexico.
Flagship Food Group is a global diversified food company with a focus on premium and Hispanic foods. It manufactures, sells, and distributes tortillas, tortilla chips, burritos, salsa, jarred chiles, frozen burritos and other food products under its 505 Southwestern, Young Guns, Lilly B's, Hatch Kitchen, Mama Lupe's, TJ Farms, La Tortilla Factory, and other brands. The Company also develops R&D-driven private label programs, and provides food logistics, warehousing, and freight management services within the food industry. Flagship Foods is an affiliate of CREO Capital Partners, a Denver, Colorado-based investment firm investing out of its fifth dedicated fund. The firm is exclusively focused on the food and consumer products industry segments. Founded in 2005, the firm has successfully invested in over 20 food companies and focuses on partnerships with outstanding management and premium brands. Investments have spanned the branded retail, private label, food logistics, and food distribution industry sub-segments.
For information on this transaction or about Armory Securities, please contact one of the following deal team members:
Eben Perison
Senior Managing Director
eperison@armorysecurities.com
310.220.6402
Doug McDonald
Head of Food & Agribusiness
dmcdonald@armorysecurities.com
310.721.2671
Nick Diver
Analyst
ndiver@armorysecurities.com
630.841.2076
Bennett Faliski
Analyst
bfaliski@armorysecurities.com
248.247.9067
Armory Securities, a division of Armory Group, LLC, is a leading investment bank dedicated to helping middle market companies and their constituents. Armory Group, through its subsidiaries, provides investment banking services, asset management services and advisory services, including enterprise transformation and interim management, to middle market companies and their stakeholders. Learn more about Armory Group, and its subsidiaries, at www.armorygroupllc.com.
Armory Securities, LLC, member FINRA, Member SIPC