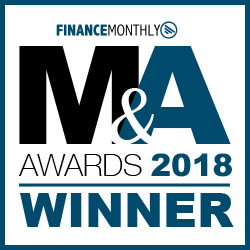 Armory Group is proud to have been recognized by Finance Monthly M&A Awards with the 2018 Insolvency Restructuring Advisory Firm of the Year Award.
"We are honored that Finance Monthly recognized our team's outstanding work this year," said Eben Perison, Head of Armory Investment Banking. "It's especially gratifying to receive a recognition that represents the talent, dedication and hard work our professionals exhibit every day to deliver best in class services to our clients."
The Finance Monthly M&A Awards recognize and celebrate the achievements of dealmakers, management teams, financiers and professional advisers who, over the 12 months, have demonstrated their deal making excellence when working on some of the most important deals across the globe. The full list of winners can be viewed here.
About Finance Monthly
Finance Monthly is a global publication delivering news, comment and analysis to those at the centre of the corporate sector. Finance Monthly reports on the news and topics that matter to the CEOs, CFOs, investors, company directors, entrepreneurs, and SMEs that make up our valued readership. We're a multi-platform publication, offering global finance news coverage both online and in digital formats, distributed to 195,880 people each month. Learn more at finance-monthly.com 
About Armory Group, LLC
Armory Group, LLC provides comprehensive capabilities focused exclusively on the middle market, including investment banking, consulting and asset management. Our collective capabilities, including our award-winning team of industry experts, allows us the flexibility to deploy the right resources to best serve the specific needs of our clients. Learn more at armorygroupllc.com.