Armory Securities, LLC is pleased to announce that the assets of O Olive & Vinegar have been sold to Colavita. The transaction closed in April 2023. Armory served as exclusive M&A advisor to Lifecore for the transaction.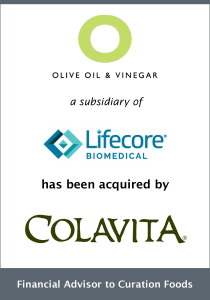 O Olive & Vinegar is a leading artisanal varietal wine vinegar and California organic extra virgin olive oil brand. O's premium array of products have been honored with multiple SOFI awards and are sold primarily in natural food, conventional grocery, eCommerce, and mass retail stores in the United States and Canada. Its vinegars are handcrafted at its state-of-the-art fermentation facility in Petaluma County, the heart of California wine country. The transaction was effectuated through the sale of the O Olive Oil & Vinegar business assets and assignment of related grower contracts of Curation Foods, Inc to an affiliate of Colavita.
Colavita is a diversified, family-owned food company founded in 1938 in Italy. Colavita is well-known for its high-quality Italian olive oil and has been importing and distributing premium Italian products in the U.S. since 1979. Colavita produces authentic specialty products, including olive oils, pastas, a full selection of balsamic and wine vinegars, organic sauces, and other ingredients. Colavita USA is headquartered in Edison, New Jersey with a production and distribution facility in Dixon, California. The O Olive & Vinegar acquisition positions Colavita to further expand its west coast operations and expands its product line for distribution of authentic specialty products to customers across the US and internationally.
For information on this transaction or about Armory Securities, please contact one of the following deal team members:
Doug McDonald
Head of Food & Agribusiness
dmcdonald@armorysecurities.com
310.721.2671
Armory Securities, a division of Armory Group, LLC, is a leading investment bank dedicated to helping middle market companies and their constituents. Armory Group, through its subsidiaries, provides investment banking services, asset management services and advisory services, including enterprise transformation and interim management, to middle market companies and their stakeholders. Learn more about Armory Group, and its subsidiaries, at www.armorygroupllc.com.
Armory Securities, LLC, member FINRA, Member SIPC