Armory Securities, LLC is pleased to announce that Uniformity Labs has completed a $38.35 million Series B financing round. Armory served as exclusive financial advisor and placement agent to Uniformity for the transaction.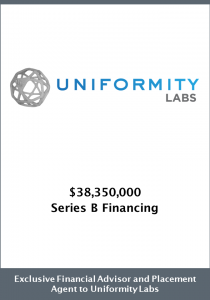 Uniformity is a leading additive manufacturing (AM) company that is revolutionizing industrial 3D printing processes with its breakthrough material and software solutions. The company's patented technology enables significant cost savings, speed, and quality improvements across all mainstream AM printers. Uniformity's feedstock materials and print processes dramatically impact the AM value chain by increasing the reliability and efficiency of printing.
Uniformity successfully raised the new funding to support its next phase of growth. Proceeds will be used to drive the expansion of the company's production capability and the development of additional specialized materials. In this latest round, Uniformity's existing investors were joined by new investment from financial and strategic investors. The Series B round also included an investment to finance plant construction from a fund managed by Orion Resource Partners, a global alternative investment management firm with approximately $6.3 billion under management.
For information on this transaction or about Armory Securities, please contact one of the following deal team members:
Eben Perison

Senior Managing Director

619.278.8146
Vice President

972-591-7793
Armory Securities, a division of Armory Group, LLC, is a leading investment bank dedicated to helping middle market companies and their constituents. Armory Group, through its subsidiaries, provides investment banking services, asset management services and advisory services, including enterprise transformation and interim management, to middle market companies and their stakeholders. Learn more about Armory Group, and its subsidiaries, at www.armorygroupllc.com.
Armory Securities, LLC, member FINRA, Member SIPC
Follow us on LinkedIn