Armory Securities, LLC is pleased to announce that Quantum Corp. has secured a new $130 million senior secured credit facility to refinance its existing debt. Armory served as exclusive financial advisor and placement agent to Quantum for the transaction.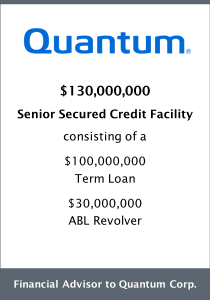 Quantum is a proven industry leader in helping its customers get the most value from their data. With 40 years of storage know-how, Quantum's technology, solutions, and services help customers capture, create and share digital content –and preserve and protect it for decades. With solutions built for every stage of the data lifecycle, Quantum's platforms provide the fastest performance for high-resolution video, images, and industrial IoT.
Following a competitive proposal process, Quantum's existing lenders provided a new term loan that bears an interest rate that is more than 500 bps lower than the term loan that was refinanced. Quantum's existing revolver lender also provided a new $30 million ABL revolver. The refinancing transaction will also allow for significant improvement relative to the previous restrictive financial covenants and other operating restrictions.
For information on this transaction or about Armory Securities, please contact one of the following deal team members:
Eben Perison
Senior Managing Director
eperison@armorysecurities.com
619.278.8146
Steven Sadek
Managing Director
ssadek@armorysecurities.com
214.563.1201
Michael Uyemura
Vice President
muyemura@armorysecurities.com
972.591.7793
Armory Securities, a division of Armory Group, LLC, is a leading investment bank dedicated to helping middle market companies and their constituents. Armory Group, through its subsidiaries, provides investment banking services, asset management services and advisory services, including enterprise transformation and interim management, to middle market companies and their stakeholders. Learn more about Armory Group, and its subsidiaries, at www.armorygroupllc.com.
Armory Securities, LLC, member FINRA, Member SIPC