Armory Securities, LLC is pleased to announce that Ocean Casino Resort has received a $175 million equity investment from the Ilitch family organization. Armory served as exclusive financial advisor to Ocean Casino Resort for the transaction.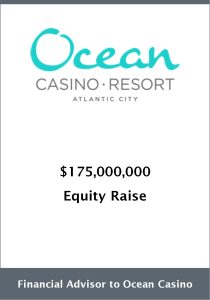 Ocean Casino Resort spans more than 20 beachfront acres on the Atlantic City Boardwalk and features 1,720 slot machines, 108 gaming tables, 1,399 hotel rooms, and 160,000 sq. ft. of meeting and convention space. Ocean Casino Resort opened as Revel Casino Hotel in 2012 and is the newest casino in Atlantic City.
The Ilitch organization owns MotorCity Casino Hotel in Detroit and has other investments in leading brands in the food, sports and entertainment, and real estate development industries.
Proceeds from the transaction will be used to repay debt and fund $75+ million of reinvestment projects, including the addition of more than 460 guest rooms and suites. Following the transaction, the Ilitch organization owns 50% of Ocean Casino Resort and brings its experience to help the property accelerate the performance improvement it has achieved in recent years and fully capitalize on the opportunities ahead. Luxor Capital Group will retain control of the remaining 50%.
For information on this transaction or about Armory Securities, please contact one of the following deal team members:
Eben Perison
Senior Managing Director
eperison@armorysecurities.com
619.278.8146
Steven Sadek
Managing Director
ssadek@armorysecurities.com
214.563.1201
Michael Uyemura
Vice President
muyemura@armorysecurities.com
972.591.7793
Armory Securities, a division of Armory Group, LLC, is a leading investment bank dedicated to helping middle market companies and their constituents. Armory Group, through its subsidiaries, provides investment banking services, asset management services and advisory services, including enterprise transformation and interim management, to middle market companies and their stakeholders. Learn more about Armory Group, and its subsidiaries, at www.armorygroupllc.com.
Armory Securities, LLC, member FINRA, Member SIPC