Armory Securities, LLC is pleased to announce the $33 million senior secured refinancing for Wave Computing, Inc. Armory served as exclusive financial advisor to Wave Computing, Inc. for the transaction.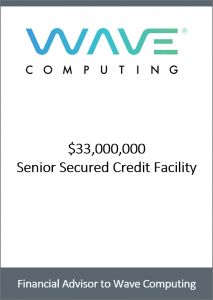 Founded in 2010, Wave Computing, Inc. ("Wave"), is a California-based private, independent technology company engaged in the licensing, development and sale of technology and services based on its microprocessor core architecture intellectual property that operates computer chip central processing unit (CPU) cores used in some of the world's most popular products.
After emerging from Chapter 11 Bankruptcy protection in March 2021, Armory was engaged as Financial Advisor and undertook an extensive process to refinance Wave's post-emergence capital structure.
As a result, Wave successfully refinanced certain liabilities and gained financial flexibility with a new $33 million senior secured first-lien term loan credit facility funded by a leading middle-market private investment firm.
The debt financing provides Wave with additional availability and working capital to refocus its business around the continued commercialization of its RISC-based architectures and position itself for strong future growth.
For information on this transaction or about Armory Securities, please contact one of the following deal team members:
Nick Tell
Senior Managing Director
ntell@armorysecurities.com
310.220.6403
Sandy Prabhakar
Managing Director
sprabhakar@armorysecurities.com
312-622-8943
Michael Uyemura
Vice President
muyemura@armorysecurities.com
972-591-7793
Zachary Sayeed
Associate
zsayeed@armorysecurities.com
708-574-1106
Armory Securities, a division of Armory Group, LLC, is a leading investment bank dedicated to helping middle market companies and their constituents. Armory Group, through its subsidiaries, provides investment banking services, asset management services and advisory services, including enterprise transformation and interim management, to middle market companies and their stakeholders. Learn more about Armory Group, and its subsidiaries, at www.armorygroupllc.com.
Armory Securities, LLC, member FINRA, Member SIPC