Armory Securities, LLC is pleased to announce that CherCo, LLC has completed a new financing consisting of a $55 million senior secured term loan and $5 million of equity. Armory served as financial advisor and placement agent to CherCo for the transaction.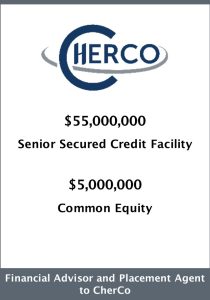 The financing transaction supports the acquisition of assets by a seasoned management team and provides ongoing liquidity for CherCo to execute on its growth plans.
With the acquisition, CherCo becomes a premier energy infrastructure services company providing contract compression, innovative ESG solutions, and aftermarket services to upstream and midstream operators in Texas, New Mexico, Oklahoma, and Louisiana.
For information on this transaction or about Armory Securities, please contact one of the following deal team members:
Steven Sadek
Managing Director
ssadek@armorysecurities.com
214.563.1201
Michael Uyemura
Director
muyemura@armorysecurities.com
972.591.7793
Nick Diver
Analyst
ndiver@armorysecurities.com
630.841.2076
Armory Securities, a division of Armory Group, LLC, is a leading investment bank dedicated to helping middle market companies and their constituents. Armory Group, through its subsidiaries, provides investment banking services, asset management services and advisory services, including enterprise transformation and interim management, to middle market companies and their stakeholders. Learn more about Armory Group, and its subsidiaries, at www.armorygroupllc.com.
Armory Securities, LLC, member FINRA, Member SIPC