Armory Securities, LLC is pleased to announce that LeVecke Corporation ("LeVecke") has successfully completed $79 million of refinancing.  Armory served as exclusive financial advisor and placement agent to LeVecke for the transaction.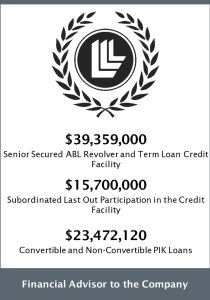 LeVecke is one of the leading producers of co-pack, private label, and branded spirits in the United States. It has a rich history as a family-owned and managed company for over 70 years.  With over 30 million annual case bottling capacity in its Mira Loma, California production facility, LeVecke produces a range of vodka, gin, tequila, rum, whisky, scotch, bourbon, brandy, cordials, margaritas, and liqueur and wine-based and ready-to-drink cocktail beverages.  The Company developed and manages several highly successful private label spirits lines for major multi-national retail customers and provides contract manufacturing services to many international branded alcoholic beverage customers.  While its initial growth was fueled by these private label and contract manufacturing services, the Company has diversified its revenues, growing its portfolio of highly successful owned-brands, including Conciere Premium Well Spirits, PAU Maui Vodka, Fid Street Gin, Los Javis Mezcal, Mahina Rum, Kentucky Walker Bourbon, and many others.
The new $39.4 million senior secured credit facility was provided by a leading independent asset-based lender to middle-market companies. In connection with the new senior secured financing, LeVecke agreed to a $15.7 million of Subordinated Last Out Participation in the facility and $23.5 million of Convertible and Non-Convertible PIK Loans from an undisclosed source. The partnership and newly funded capital provides LeVecke with greater flexibility and liquidity to execute on its branded growth strategy and positions the Company for its next phase of growth.
For information on this transaction or about Armory Securities, please contact one of the following deal team members:
Eben Perison
Senior Managing Director
eperison@armorysecurities.com
619.278.8146
Doug McDonald
Managing Director
dmcdonald@armorysecurities.com
310.721.2671
Sandy Prabhakar
Managing Director
sprabhakar@armorysecurities.com
312.924.2933
Ron Papile
Vice President
rpapile@armorysecurities.com
818.967.6480
Bennett Faliski
Analyst
bfaliski@armorysecurities.com
248.247.9067
Armory Securities, a division of Armory Group, LLC, is a leading investment bank dedicated to helping middle market companies and their constituents. Armory Group, through its subsidiaries, provides investment banking services, asset management services and advisory services, including enterprise transformation and interim management, to middle market companies and their stakeholders. Learn more about Armory Group, and its subsidiaries, at www.armorygroupllc.com.
Armory Securities, LLC, member FINRA, Member SIPC