Armory Securities, LLC is pleased to announce that Universal Gaming Group has secured a new senior secured credit facility. Armory served as exclusive financial advisor and placement agent to Universal Gaming Group for the transaction.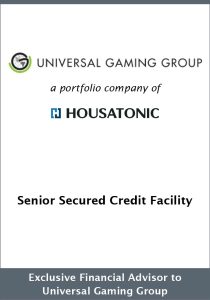 Following a competitive proposal process, Universal Gaming Group ("Universal Gaming") entered into a new credit facility with a leading global private capital provider. The financing transaction refinances Universal Gaming's existing debt and provides liquidity and flexibility for the company to execute on its growth plans.
Universal Gaming is a leading video gaming terminal operator serving the slot route market in Illinois, with a portfolio of approximately 200 locations across the state. Universal Gaming is a portfolio company of Housatonic Partners, a private equity firm with more than $1.5 billion in capital under management. Housatonic Partners acquired the company in 2018.
For information on this transaction or about Armory Securities, please contact one of the following deal team members:
Steven Sadek
Managing Director
ssadek@armorysecurities.com
214.563.1201
Michael Uyemura
Vice President
muyemura@armorysecurities.com
972.591.7793
Armory Securities, a division of Armory Group, LLC, is a leading investment bank dedicated to helping middle market companies and their constituents. Armory Group, through its subsidiaries, provides investment banking services, asset management services and advisory services, including enterprise transformation and interim management, to middle market companies and their stakeholders. Learn more about Armory Group, and its subsidiaries, at www.armorygroupllc.com.
Armory Securities, LLC, member FINRA, Member SIPC