Armory Securities, LLC is pleased to announce that Quantum Corp. has secured a $15 million add-on term loan alongside amendments to its existing senior secured credit facilities. Armory served as exclusive financial advisor and placement agent to Quantum for the transaction.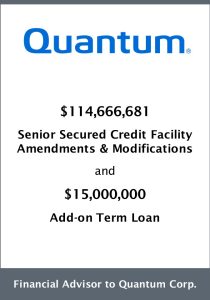 Quantum is a proven industry leader in helping its customers get the most value from their data. With more than 40 years of storage know-how, Quantum delivers end-to-end solutions that are uniquely equipped to orchestrate, protect, and enrich data across its lifecycle, providing enhanced intelligence and actionable insights. Data-driven organizations in cloud services, entertainment, government, research, education, transportation, and enterprise IT rely on Quantum for their unstructured data needs.
This transaction provides Quantum with greater operational flexibility to execute on its business plan. The additional liquidity and covenant flexibility allows Quantum to capitalize on cost savings initiatives and positions the company for growth as it brings recent product innovations to market.
For information on this transaction or about Armory Securities, please contact one of the following deal team members:
Eben Perison
Senior Managing Director
eperison@armorysecurities.com
619.278.8146
Michael Uyemura
Director
muyemura@armorysecurities.com
972.591.7793
Nancy Mannebach
Senior Associate
nmannebach@armorysecurities.com
718.307.2727
Matthew Curtis
Senior Associate
mcurtis@armorysecurities.com
248.303.4609
Armory Securities, a division of Armory Group, LLC, is a leading investment bank dedicated to helping middle market companies and their constituents. Armory Group, through its subsidiaries, provides investment banking services, asset management services and advisory services, including enterprise transformation and interim management, to middle market companies and their stakeholders. Learn more about Armory Group, and its subsidiaries, at www.armorygroupllc.com.
Armory Securities, LLC, member FINRA, Member SIPC