Armory Securities, LLC is pleased to announce that Rack & Riddle has closed a private equity investment from SBJ Capital. The transaction closed on August 31, 2021. Armory served as exclusive financial advisor to Rack & Riddle for the transaction.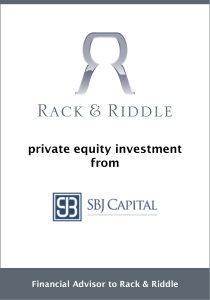 Rack & Riddle is one of the three largest domestic producers of sparkling wines made in the traditional Champagne method and is one of the only providers of scale capable of supplying third parties, such as grocery retailers or wine brands, with "American Champagne." From its facilities in Healdsburg and Geyserville, Rack & Riddle produces more than two million cases of still and sparkling wines annually, and offers a full suite of wine production services including: grape sourcing and crushing, still wine bottling, and grape-to-bottle sparkling wine production for both branded and private label wine clients.
SBJ Capital, based in Walnut Creek, California, is an investment fund that manages approximately $400 million of committed capital and has served as a value-added investment partner to more than 40 companies. SBJ Capital focuses on founder owned middle-market consumer and business services companies.
SBJ Capital has invested equity in partnership with the founding managers of the Company who have retained a significant rollover ownership interest and operational leadership of the Company. The transaction closed simultaneously with a new senior secured term loan and ABL revolver provided by BMO Harris Bank.
For information on this transaction or about Armory Securities, please contact one of the following deal team members:
Doug McDonald
Managing Director
dmcdonald@armorysecurities.com
310.721.2671
Evan Altman
Senior Associate
ealtman@armorysecurities.com
617.460.9685
Armory Securities, a division of Armory Group, LLC, is a leading investment bank dedicated to helping middle market companies and their constituents. Armory Group, through its subsidiaries, provides investment banking services, asset management services and advisory services, including enterprise transformation and interim management, to middle market companies and their stakeholders. Learn more about Armory Group, and its subsidiaries, at www.armorygroupllc.com.
Armory Securities, LLC, member FINRA, Member SIPC