Armory Securities is pleased to announce the recapitalization of 21st Amendment Brewery ("21A").  Armory served as exclusive placement agent and financial advisor to 21A for the transaction.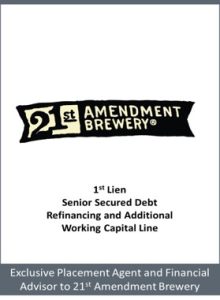 21A is a top pacific region and large national craft beer brand with a 20+ year history and strong customer following.  Nationwide distribution in 30+ states with 100+ distributors, world-class production brewery, fermentation capacity of 150,000 barrels and canning capacity of over 300,000 barrels.
The recapitalization provides 21A with a solid foundation to continue serving its popular craft beers.  It also provides a platform to take advantage of future opportunities in the sector  given the challenges that brewers have been facing across the country during the Covid pandemic coupled with changing customer drinking habits.
For information on this transaction or about Armory Securities, please contact one of the following deal team members:
Eben Perison
Senior Managing Director
eperison@armorysecurities.com
619.278.8146
Doug McDonald
Managing Director
dmcdonald@armorysecurities.com
310.721.2671
David Clark
Managing Director
dclark@armorystrategic.com
617.990.4682
Armory Securities, a division of Armory Group, LLC, is a leading investment bank dedicated to helping middle market companies and their constituents. Armory Group, through its subsidiaries, provides investment banking services, asset management services and advisory services, including enterprise transformation and interim management, to middle market companies and their stakeholders. Learn more about Armory Group, and its subsidiaries, at www.armorygroupllc.com.
Armory Securities, LLC, member FINRA, Member SIPC