The Cosine Group ("Cosine"), an affiliate of Armory Securities, LLC, is pleased to announce that JPG Plumbing & Mechanical Services, Inc. ("JPG") has been acquired by Exigent, a portfolio Company of Huron Capital. This strategic partnership will support the Company's continued growth trajectory and ongoing service line expansion. The transaction closed in March 2023 and Cosine served as exclusive M&A advisor.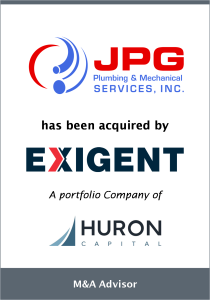 About JPG Plumbing & Mechanical Services:
JPG  is based in Jessup, Maryland and provides plumbing, mechanical, HVAC, and industrial vacuum services throughout the Washington, D.C., Maryland, and Virginia area ("the DMV"). JPG has positioned itself as the preferred service and installation provider for owners and facility managers of complex plumbing, HVAC, and mechanical systems. JPG maintains a diversified customer base of leading property management firms, industrial & commercial facilities, as well as federal, state, and municipal government agencies.
About Huron Capital:
Huron Capital ("Huron") is a Detroit, Michigan-based private equity firm. Huron has managed over $1.8 billion on behalf of a global institutional investor base and completed over 260 acquisitions in business services and other industries since the firm's inception.
About Armory Securities & The Cosine Group:
Armory Securities is an investment banking, consulting & asset management firm focused on the middle market. The firm has offices in Boston, New York City, Los Angeles, Dallas, and Chicago. This transaction continues Cosine's strong track record within the Industrial & Engineering Services sector, marking the 8th completed transaction in the space since 2019. The transaction was led by Aaron Copeland, Matt Cusick, and Andrew Pharaoh.
For information on this transaction or about Armory Securities, please contact one of the following deal team members:
Eben Perison
Senior Managing Director
eperison@armorysecurities.com
310.220.6402
Aaron Copeland
Managing Director
acopeland@tcosg.com
617.598.0446
Matt Cusick
Managing Director
mcusick@tcosg.com
617.598.0441
Andrew Pharaoh
Vice President
apharaoh@tcosg.com
865.776.7315
Armory Securities, a division of Armory Group, LLC, is a leading investment bank dedicated to helping middle market companies and their constituents. Armory Group, through its subsidiaries, provides investment banking services, asset management services and advisory services, including enterprise transformation and interim management, to middle market companies and their stakeholders. Learn more about Armory Group, and its subsidiaries, at www.armorygroupllc.com.
Armory Securities, LLC, member FINRA, Member SIPC