Armory Securities, LLC is pleased to announce that SUPERAntiSpyware, a division of Support.com, has been acquired by RealDefense, LLC. Armory served as exclusive financial advisor to Support.com in connection with the sale.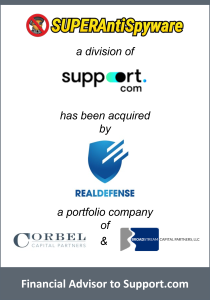 SUPERAntiSpyware, founded in 2004, is known for its AI-powered malware detection engine and database. Its flagship product has over 65 million downloads and more than one million active users.
Support.com is one of the leading providers of customer and tech support subscription services. With its global network of home-based experts, Support.com has achieved stellar results for global enterprise clients, leading businesses, and consumers for more than twenty years. The sale allows Support.com to focus on its core business of providing technical support solutions.
For information on this transaction or about Armory Securities, please contact one of the following deal team members:
Eben Perison
Senior Managing Director
eperison@armorysecurities.com
310.220.6402
Melissa Chu
Vice President
mchu@armorysecurities.com
508.505.7231
Nick Diver
Analyst
ndiver@armorysecurities.com
972.895.3369
Armory Securities, a division of Armory Group, LLC, is a leading investment bank dedicated to helping middle market companies and their constituents. Armory Group, through its subsidiaries, provides investment banking services, asset management services and advisory services, including enterprise transformation and interim management, to middle market companies and their stakeholders. Learn more about Armory Group, and its subsidiaries, at www.armorygroupllc.com.
Armory Securities, LLC, member FINRA, Member SIPC