Armory Securities, LLC is pleased to announce the sale of National Railway Equipment Co. The transaction closed on May 2, 2023. Armory served as the exclusive financial advisor to the company for the transaction.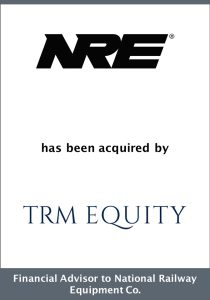 National Railway Equipment Co. ("NRE") is a premier provider of specialized Locomotive and Marine engine remanufacturing services, including modernization, rebuilds, repairs, and maintenance. NRE has delivered over 1200 new and remanufactured locomotives to North American and International railroads. The Company is headquartered in Mount Vernon, IL, and has facilities across five other continents.
The assets of NRE were sold to TRM Equity, a prominent private equity firm that excels in effectively managing its control investments in middle-market industrial businesses, with a focus on operational improvements and transformations. With a core team that has worked and invested together for over 15 years, the company brings extensive expertise in specified manufacturing industries and has a proven track record of delivering above-market returns.
For information on this transaction or about Armory Securities, please contact one of the following deal team members:
Nick Tell
Senior Managing Director
ntell@armorysecurities.com
310.220.6400
Sandy Prabhakar
Managing Director
sprabhakar@armorysecurities.com
312.924.2933
Melissa Chu
Vice President
mchu@armorysecurities.com
978.942.7428
Armory Securities, a division of Armory Group, LLC, is a leading investment bank dedicated to helping middle market companies and their constituents. Armory Group, through its subsidiaries, provides investment banking services, asset management services and advisory services, including enterprise transformation and interim management, to middle market companies and their stakeholders. Learn more about Armory Group, and its subsidiaries, at www.armorygroupllc.com.
Armory Securities, LLC, member FINRA, Member SIPC