Armory Securities, LLC is pleased to announce that Cache Creek Foods ("CCF") has been sold to Severn Peanut Co. (a subsidiary of Meherrin Agricultural & Chemical Co.). The transaction closed on August 15, 2023. Armory served as the exclusive financial advisor to Cache Creek Foods for the transaction.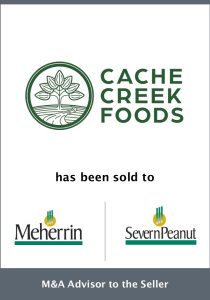 Cache Creek Foods is a manufacturer of premium tree nut butters, seasoned nuts, and powders used as ingredients in nut-based beverages, including almond milk and cashew milk, as well as in nut-based ice creams, yogurts and other dairy alternative foods. The Company services both branded consumer packaged goods and private label customers throughout North America. Its signature AlmondGOLD nut butter is highly regarded as a staple ingredient for plant-based beverages and snack products by industry R&D scientists, product developers, and plant milk co-manufacturers. Severn has acquired Cache Creek Foods in a stock transaction and will retain its existing employees and continue to operate from its production facility in Woodland, California.
Meherrin Agricultural & Chemical Co. is a diversified, family-owned company founded in 1958 in Severn, North Carolina.  Its wholly owned subsidiary Severn Peanut Co. operates a portfolio of nut processing businesses including Hampton Farms and Ready Roast of Madera, California.  Severn produces peanuts and other nut-based snacks to customers throughout the world. The Cache Creek Foods acquisition positions Severn to further expand its portfolio of nut processing facilities and grow its product line for distribution of best-in-class tree nut butters, seasoned nuts, and other tree nut food ingredients to customers across the US and Internationally.
For information on this transaction or about Armory Securities, please contact one of the following deal team members:
Doug McDonald
Managing Director
dmcdonald@armorysecurities.com
310.721.2671
Bennett Faliski
Analyst
bfaliski@armorysecurities.com
248.247.9067
Armory Securities, a division of Armory Group, LLC, is a leading investment bank dedicated to helping middle market companies and their constituents. Armory Group, through its subsidiaries, provides investment banking services, asset management services and advisory services, including enterprise transformation and interim management, to middle market companies and their stakeholders. Learn more about Armory Group, and its subsidiaries, at www.armorygroupllc.com.
Armory Securities, LLC, member FINRA, Member SIPC