Armory Securities, LLC is pleased to announce the successful sale of the assets of Aruze Gaming America, Inc ("Aruze") via §363 auction under the U.S. Bankruptcy code. Armory served as exclusive financial advisor to Aruze in connection with the transaction.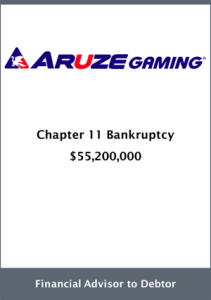 Aruze is a Nevada-based, privately-owned leading manufacturer and supplier of gaming equipment, including video and mechanical slots, as well as premium electronic table games ("ETGs") for the global casino market. Aruze has developed innovative products that differ from traditional slots and ETGs, such as Roll to Win Craps, Go Go Claw, and Rock Paper Scissors.
Aruze filed its voluntary petition for relief under Chapter 11 of the Bankruptcy Code for the District of Nevada on February 1, 2023. As a result of the §363 Auction held on June 15, 2023, specific assets of Aruze were acquired by three different buyers: Interblock, Empire Technological Group, and Aruze's bank group. The structure of the sale was value-maximizing to Aruze as Armory helped structure the transaction across these various assets, which included but were not limited to the ETG IP, iGaming IP, slot machine inventory, ETG inventory, iGaming inventory, ETG leased install base, and slot machine leased install base.
For information on this transaction or about Armory Securities, please contact one of the following deal team members:
Eben Perison
Senior Managing Director
eperison@armorysecurities.com
619.278.8146
Steven Sadek
Managing Director
ssadek@armorysecurities.com
214.563.1201
Michael Uyemura
Director
muyemura@armorysecurities.com
972.591.7793
Armory Securities, a division of Armory Group, LLC, is a leading investment bank dedicated to helping middle market companies and their constituents. Armory Group, through its subsidiaries, provides investment banking services, asset management services and advisory services, including enterprise transformation and interim management, to middle market companies and their stakeholders. Learn more about Armory Group, and its subsidiaries, at www.armorygroupllc.com.
Armory Securities, LLC, member FINRA, Member SIPC