ARMORY ANNOUNCED AS WINNER OF THE 22nd ANNUAL M&A ADVISOR AWARDS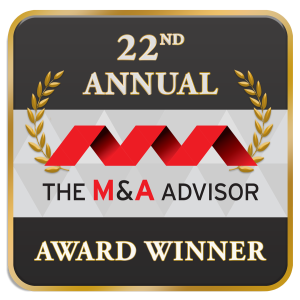 New York, NY, November 16, 2023 – The M&A Advisor announced the winners of the 22nd  Annual M&A Advisor Awards to a sold-out and energetic Black-Tie gathering at The New York Athletic Club during the 2023 Future of Dealmaking Summit. Armory's work on the sale of National Railway Equipment Co. to TRM Equity was named the winner for the Industrials Deal of the Year award in the $50-$100MM category.
"The award recipients represent the best in the mergers and acquisitions industry this  past year and earned these honors by standing out in a group of extremely impressive  finalists," said Roger Aguinaldo, Founder and CEO of The M&A Advisor. "Ranging from  large multi-billion dollar deals to lower middle market deals, we are recognizing the  leading transactions, firms, and individuals that represent the highest levels of  accomplishment."
The 22nd Annual M&A Advisor Awards Gala honored the professionals whose activities  set an extremely high standard for dealmaking. This year, over 350 nominees, representing over 500 companies, became finalists for the awards.
"We are very proud to be recognized by The M&A Advisor with this award, especially after receiving Boutique Investment Banking Firm of the Year and Refinancing of the Year during the M&A Advisor's 16th Annual Turnaround Awards last year," said Nick Tell, Co-Founder and CEO of Armory Securities. The Armory team remains very active in the upper middle market and is currently handling several market-leading capital markets and M&A mandates for clients throughout the country.     
About Armory Securities  
Armory is a boutique investment bank and financial advisory firm, providing tailored solutions to meet the capital and operational needs of its clients. Armory offers the expertise found in large bulge bracket investment banks/ consulting firms with the tailored attention and creativity of a boutique firm. For more information please visit www.armorygroupllc.com. 
THE M&A ADVISOR 
The M&A Advisor was founded in 1998 to offer insights and intelligence on M&A activities and has since been established as the premier global network of M&A, Turnaround, and Finance professionals. Today, we have the privilege of presenting,  recognizing the achievements of, and facilitating connections between the industry's top  performers throughout the world with a comprehensive range of services. To learn more  visit www.maadvisor.com.
Armory Securities, a division of Armory Group, LLC, is a leading investment bank dedicated to helping middle market companies and their constituents. Armory Group, through its subsidiaries, provides investment banking services, asset management services and advisory services, including enterprise transformation and interim management, to middle market companies and their stakeholders. Learn more about Armory Group, and its subsidiaries, at www.armorygroupllc.com.
Armory Securities, LLC, member FINRA, Member SIPC