ARMORY GROUP, LLC ANNOUNCED AS WINNER OF THE 14th ANNUAL TURNAROUND AWARDS
Honored by The M&A Advisor in recognition of the team's work on the restructuring of Quantum Corporation.
"We are pleased to announce that Armory Group, LLC has been honored with the 2019 Refinancing of the Year between $100 million – $1 billion for Quantum Corporation."
"Since 2002, we have been honoring the leading turnaround transac­tions, companies, and dealmakers. The nominations, representing over 240 participating companies, were judged by an independent panel of industry experts. Armory Group, LLC was chosen to receive the award. It gives us a great pleasure to recognize Armory Group, LLC, and bestow upon them our highest honor for distressed investing and reorganization firms and professionals," said Roger Aguinaldo, Founder, The M&A Advisor. "Armory Group, LLC is a representative of those that reached the pinnacle of the distressed investing, bankruptcy and reorganization industry for 2019 and earned these honors by standing out in a group of very impressive candidates."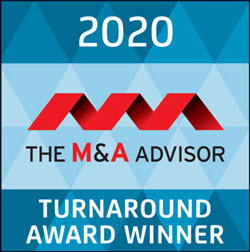 The Awards Gala is a feature of the 2020 Distressed Investing Summit. The Summit will take place on March 17/18 and will feature 250 of the industry's leading professionals participating in exclusive interactive forums led by a faculty of restructuring industry stalwarts and business media experts. Palm Beach's exclusive Colony Hotel will be home to the One-on-One Meetings, Opening Night Reception, Symposium, Awards Celebrations, and our infamous Closing Party. For an event profile CLICK HERE.
Armory Group, LLC 
Armory Group, LLC provides comprehensive capabilities focused exclusively on the middle market, including investment banking, consulting, and asset management. Our breadth of resources, including our award-winning team of professionals, allows us to deploy the right resources to best serve the specific needs of our clients. Learn more at armorygroupllc.com.
THE M&A ADVISOR
Now in its 22nd year, The M&A Advisor was founded to offer insights and intelligence on mergers and acquisitions, establishing the industry's leading media outlet in 1998. Today, the firm is recognized as the world's premier leadership organization for mergers & acquisitions, restructuring, and corporate finance professionals, delivering a range of integrated services. www.maadvisor.com.