ARMORY ANNOUNCED AS WINNER OF THE 17th ANNUAL TURNAROUND AWARDS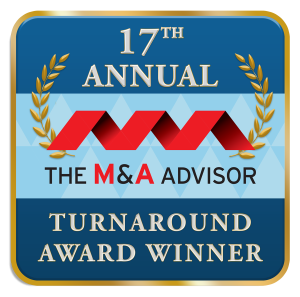 Los Angeles, CA, February 14, 2023 – The M&A Advisor announced the winners of the 17th Annual Turnaround Awards. Armory/Ventec Life Systems was named a winner for the Distressed M&A Deal of the Year. The awards will be presented at a Black-Tie Awards Gala on Wednesday, March 22, 2023 at The Colony Hotel in Palm Beach, Florida. 
"Since 2002, we have been honoring the leading turnaround transactions, companies and dealmakers. Armory was chosen from hundreds of participating companies to receive the award. It gives us a great pleasure to recognize Armory and bestow upon them our highest honor for distressed investing and restructuring firms and professionals," said Roger Aguinaldo, Founder and CEO of The M&A Advisor. Armory represents the best of the distressed investing and reorganization industry in 2022 and earned these honors by standing out in a group of very impressive candidates."  
"We are extremely proud to be recognized by The M&A Advisor with this award, especially after receiving Boutique Investment Banking Firm of the Year and Refinancing of the Year during the M&A Advisor's 16th Annual Turnaround Awards last year," said Eben Perison, Co-Founder and CEO of Armory Securities. The Armory team remains very active in the upper middle market and is currently handling several market-leading capital markets and M&A mandates for clients throughout the country.     
The Awards Gala is a feature of the 2023 Distressed Investing Summit. The Summit will take place on March 21-22, 2023 and will host over 150 of the industry's leading professionals participating in exclusive interactive forums, sessions, roundtable discussions, and one-on-one meetings led by a faculty of restructuring industry stalwarts.  
About Armory Securities  
Armory is a boutique investment bank and financial advisory firm, providing tailored solutions to meet the capital and operational needs of its clients. Armory offers the expertise found in large bulge bracket investment banks/ consulting firms with the tailored attention and creativity of a boutique firm. For more information please visit www.armorygroupllc.com. 
THE M&A ADVISOR 
Now in its 24th year, The M&A Advisor was founded to offer insights and intelligence on mergers and acquisitions, establishing the industry's leading media outlet in 1998. Today, the firm is recognized as the world's premier leadership organization for mergers & acquisition, restructuring and corporate finance professionals, delivering a range of integrated services from offices in New York and London. www.maadvisor.com. 
Armory Securities, a division of Armory Group, LLC, is a leading investment bank dedicated to helping middle market companies and their constituents. Armory Group, through its subsidiaries, provides investment banking services, asset management services and advisory services, including enterprise transformation and interim management, to middle market companies and their stakeholders. Learn more about Armory Group, and its subsidiaries, at www.armorygroupllc.com.
Armory Securities, LLC, member FINRA, Member SIPC