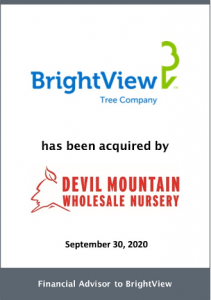 Armory Securities, LLC is pleased to announce the sale of BrightView Tree Company. Armory served as exclusive financial advisor to BrightView Landscapes for the transaction.
Armory and BrightView Landscapes successfully completed the strategic divestiture and carve-out of BrightView Tree Company, which is one of the finest growers of quality trees and shrubs in the United States with state-of-the-art growing grounds in Northern California, Southern California, and Arizona. The operations of BrightView Tree also include Swan Hill Olives®, a proprietary and market-leading non-fruiting and low-pollinating landscape olive tree. BrightView Tree Company, founded in 1961 as Valley Crest Tree Company, is a pioneer that has shaped the nursery industry over its 60-year history. BrightView Tree has maintained its focus on providing the highest levels of quality and customer service.
On September 30, 2020, BrightView consummated the sale of BrightView Tree Company to Devil Mountain Wholesale Nursery, which is a leading provider of a full range of plant materials to the wholesale landscape markets, particularly in Northern California, with more than 5,000 landscape contractor and other customers. The stock sale transaction closed simultaneously with a new asset-based financing for the entity. The transaction was structured to maximize value for BrightView shareholders and to foster a continued supply relationship between Devil Mountain and BrightView Landscapes.
For information on this transaction or about Armory Securities, please contact one of the following deal team members:
Douglas McDonald

Managing Director

Head of Food & Agribusiness

310.721.2671

Ron Papile

Associate

818-967-6480

Armory Securities, a division of Armory Group, LLC, is a leading investment bank dedicated to helping middle market companies and their constituents. Armory Group, through its subsidiaries, provides investment banking services, asset management services and advisory services, including enterprise transformation and interim management, to middle market companies and their stakeholders. Learn more about Armory Group, and its subsidiaries, at www.armorygroupllc.com.
Armory Securities, LLC, member FINRA, Member SIPC